Beauty hacks on eyebrows. My brow care with Nanobrow
Without doubt, eyebrow care is essential, not only because this makes you look more attractive. Neat eyebrows serve more practical purposes than just making us more appealing. To be honest, I keep coming across people who are convinced that eyebrows grow on our face just so we can apply makeup to them. The truth though is that there's more to eyebrows then that. Trust me, eyebrows handle many important tasks – sometimes even life-saving – therefore its wise to take care of them correctly. Thus, I turned to Nanobrow to maintain the good state of my eyebrows. Keep reading my post to understand the massive importance of eyebrows that they have on our well-being and to learn what you can achieve with this eyebrow serum in particular.
Why it is a good practice to take care of eyebrows?
Eyebrows are the bulges above our eyes that are covered with short hair. Each eyebrow has approximately 250 hairs, but people who have never used tweezers may have even 1100 brow hairs. Their life cycle lasts around 4 months, which is the period between losing an old brow hair and growing of a new one.
There are two reasons why it's better to take care of eyebrows than neglecting them. The first one is connected with the role they play for our organizm. Namely, eyebrows protect eyes from rain water, sweat and blood (in case of some injuries). The second reason is connected with our physical appearance. When neat, eyebrows form a beautiful frame for our eyes and complete our entire look.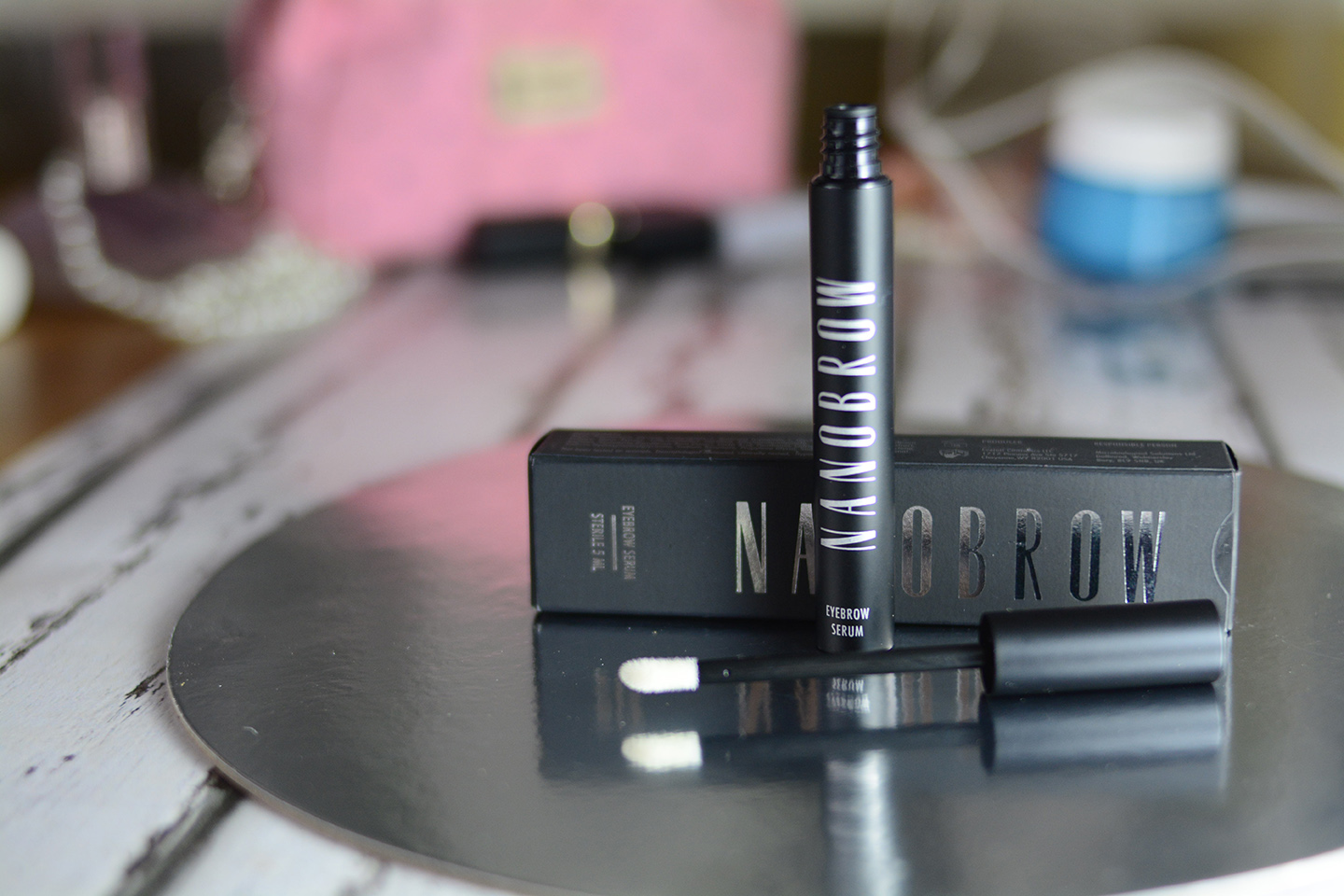 How to take care of eyebrows?
Luckily, there are multitude of ways to take care of eyebrows. For example, you can turn to various types of brow enhancing cosmetics that are widely available in drugstores. Also, you can check whether old remedies for thick brows really work. Basically, to me the term 'eyebrow care' also includes skillful shaping, applying makeup and using the right type of color cosmetics. Still, the most crucial thing to do is to apply special eyebrow products that are designed to boost brows. One of such products is Nanobrow eyebrow serum that I've been using for some time now.
Nanobrow eyebrow serum: My No. 1
Choosing the eyebrow serum – Nanobrow in particular – was simple. Why? Let me give you a few reasons why.
It creates the very effects I wanted to achieve, it fulfills all my expectations.
The serum contains natural ingredients and active substances that take care of eyebrows and the skin.
It's easy to apply and the applicator itself matches perfectly the shape of brow ridge.
It's tiny (5 ml) therefore I can always carry it around (I can even put it into my carry-on baggage).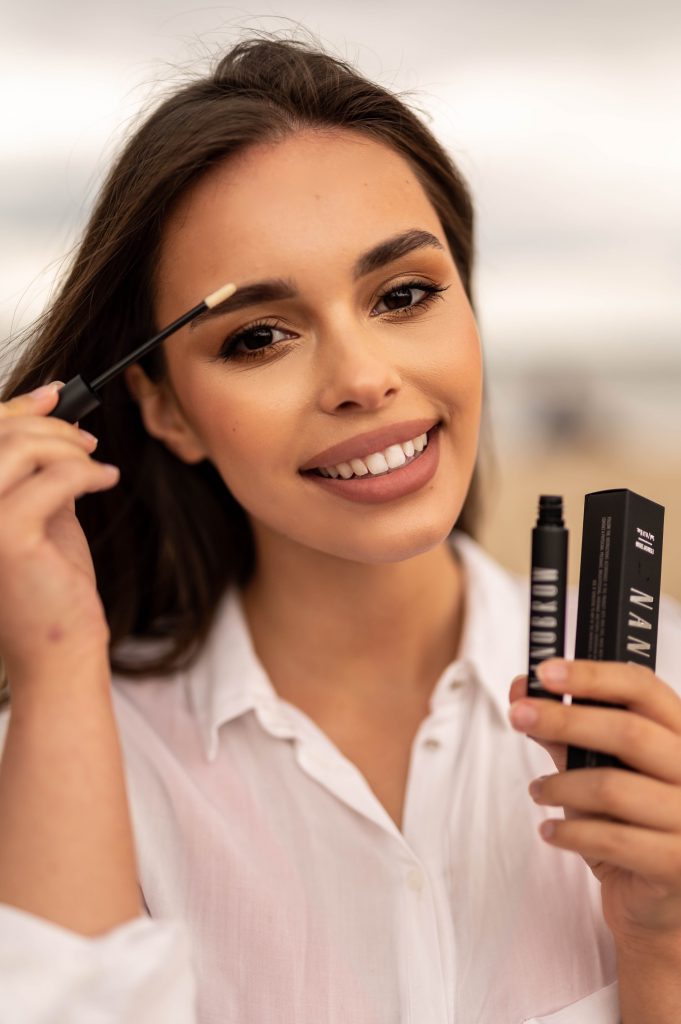 What are the effects of using Nanobrow?
Nanobrow eyebrow serum, as I said it earlier, affects eyebrows and the skin area that the brows grow out from. In my view, Nanobrow's biggest advantage is its ability to stimulate brow hair growth consequently making brows longer and thicker. Additionally, this serum intensifies natural brow color and in general enhances the look of brows. It's also worth mentioning that Nanobrow supplies brows with numerous essential nutrients leaving brows and follicles stronger. It fills in sparse brows and combats brow thinning. What's more, Nanobrow moisturizes brow hairs and skin, shields them against the adverse effects of external factors and counteracts premature ageing.
How do I apply Nanobrow?
I spread Nanobrow on clean brow ridges. I always wipe off makeup together with sebum and other impurities that cling to the brow hairs first – I don't want anything to impede the serum from delivering the looked-for results. Then I use the applicator to spread the serum on both eyebrows. It's super easy because the applicator glides over the brow ridges smoothly. Remember to apply the serum at bedtime because, as we know this well, human organism regenerates while we sleep.
What are the ingredients used in Nanobrow?
Nanobrow eyebrow serum contains substances responsible for stimulating eyebrow hair to grow and improving their state. Some of the ingredients are
ginseng and soy sprout extracts that regenerate, reinforce, accelerate growth and neutralize free radicals (they are responsible for ageing).
wheat sprout and Baikal skullcap root extract that rebuild, strengthen and protect against premature ageing and against UV rays; they maintain eyebrows in good state and improve their appearance.
panthenol and arginine that moisturize and counteract losing water from the inner structures of brow and skin layers.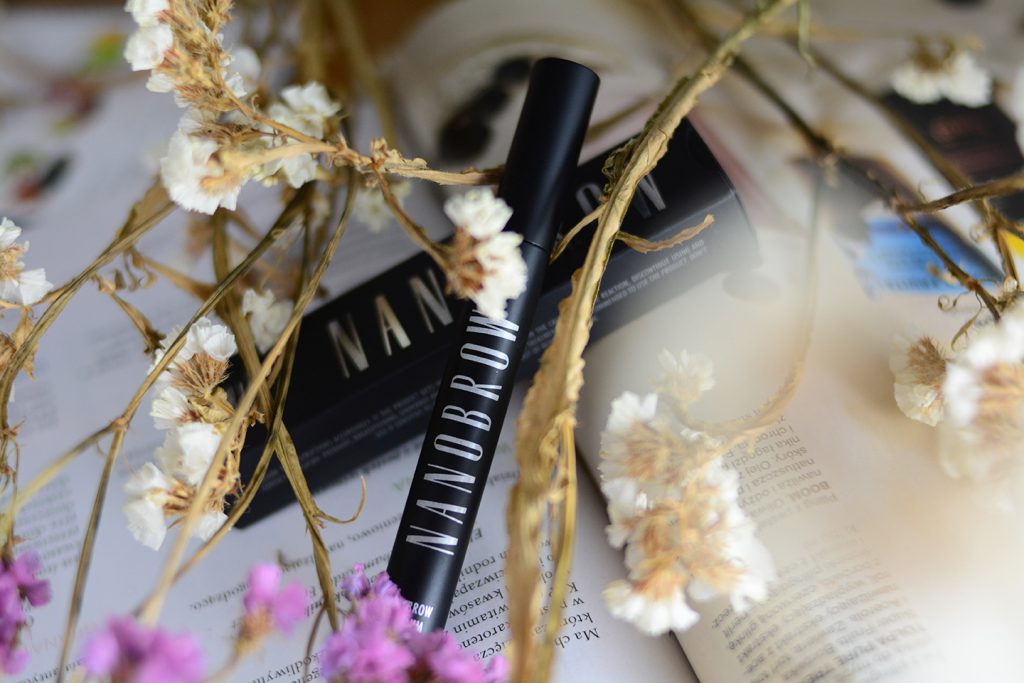 Who do I recommend Nanobrow serum to?
Nanobrow eyebrow serum is suitable for those who
want to grow longer, thicker and full-looking eyebrows.
have patchy eyebrows.
have too fair eyebrows.
want to reinforce weak and thinning eyebrows.
over-tweezed their brows.
have dry skin patches (on brow ridges).
want to apply less or want to resign from brow makeup.
Does Nanobrow eyebrow serum really work?
In my view, Nanobrow eyebrow serum is the best. The effects it delivers satisfy my needs fully because it helps brow hairs to grow, makes them stronger and improves their state. What's even more important, the effects are delivered really fast, however, the speed that the results become visible at depends on the susceptibility of an organism to the components and the fact whether you apply the serum accordingly to the instructions given in the leaflet. The price isn't the lowest but it's now common that you have to pay more if you care for high quality and effectiveness. The ingredients and application are so amazing that there is nothing to complain about.
How do you take care of the eyebrows? Do you use some eyebrow serums? If so, is it Nanobrow?
Visit nanobrow.us