Soap Brows? Only With Nanobrow Eyebrow Styling Soap
Dear readers 🙂
Today a few words on "soap brows" – meaning styling eyebrows using brow soap. I'll tell you which soap is best for creating "soap brows". A laminated brow effect is guaranteed!!!
What are "soap brows"?
"Soap brows" is a brow makeup trend, consisting of shaping arches with the help of a special soap. Initially, girls used to style their arches with regular bar soaps, but their formulas aren't the best for the skin. They left unattractive streaks and white residue. I have something much better for you!!! The professional Nanobrow Eyebrow Styling Soap with a pleasant gel-like formula.
This product is not just any other brow soap. It proves a great replacement for brow gels, mascaras, and…eyebrow lamination! It delivers a realistic-looking laminated brow effect. It perfectly smooths brows, adds shine, and sets them to ensure your brow look lasts all day. They gain the ultimate volume and fluffiness, which is what "soap brows" are all about.
The Nanobrow soap formula is very light and doesn't overburden brow hairs. It's easy to work with and I'm sure even unskilled girls can master it in no time 🙂 It contains glycerin, which additionally moisturizes brow hairs, adding healthy shine.
The soap comes with a cone-shaped spoolie- perfect for the brows. The whole look appears very professional 🙂 The handy tin doesn't take much space, so you can always carry it in your handbag and do your makeup at work or on the go. You can quickly and easily define your eyebrows without worrying about any touch-ups during the day.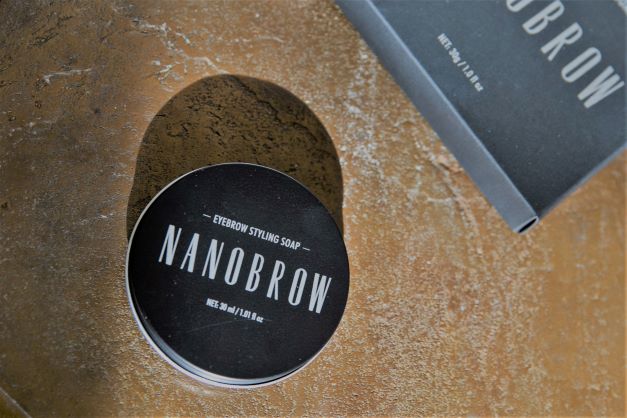 Soap brows – step by step
You already know that choosing a good brow soap is essential. Now I'm going to show you how to create "soap brows" step by step using Nanobrow soap.
How to do soap brows:
Prepare the soap and the spoolie
Using the spoolie, scoop out a small amount of the soap
Brush it through your brows in an upward direction, giving them the coveted shape
Wait for the soap to set your look
Complete your makeup with a pencil, powder, or pomade
Nanobrow brow soap doesn't require using water to apply it. The gel-like formula can be applied directly to the eyebrows. The special curved spoolie help you precisely distribute the product along the entire brows and brush them up beautifully.
If you fancy more strongly defined arches, simply reverse the order. First outline your eyebrows with a pencil or pomade, starting from the bottom line, and then set your complete look with the soap.
Brow care is key
Without daily brow care, my eyebrows would never look good. Before I started consciously taking care of them, I usually neglected them, which resulted in the problem of thin and sparse brows. In addition to brow styling, it's worth taking care of their proper condition so they grow strong and thick.
I like the Nanobrow soap for the fact that it contains glycerin, which moisturizes brow hairs and boosts shine. It doesn't dry them out like regular soap and protects them from damage.
My ways to achieve thick eyebrows: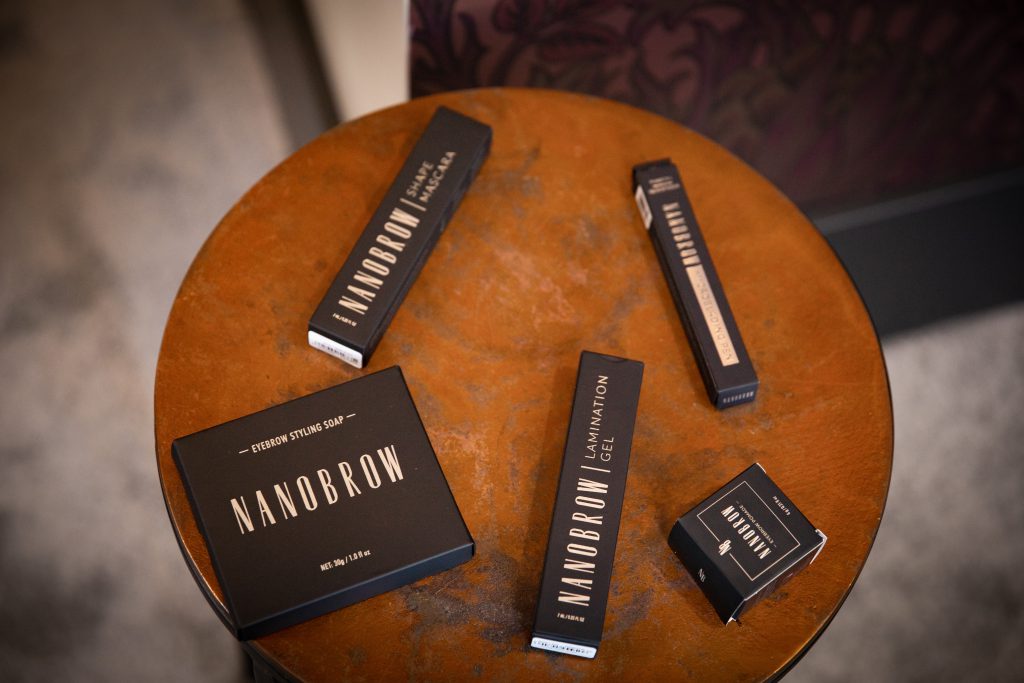 give up plucking (I only remove individual stray hairs that stick out beyond the eyebrow line)
I apply castor oil to my brows before bedtime
I apply Nanobrow serum daily (even under makeup)
I choose gentle products for my eyebrows
With a little patience, your eyebrows can achieve your dream volume 🙂 You can notice the effects of such "treatment" in about a month – they are worth waiting for!
That's all for today. I hope you found this post helpful and you're willing to follow my advice 🙂