Vitamin C for Face Skin – My Best Serums [REVIEWS]
Hey!
Because many of you ask me about my skin care routine, my favorite face products and the best vitamin C serum I've used so far, I want to answer all questions in one post. I'll tell you how I care for my complexion on a daily basis, what products I use, and also share the name of the best facial serum I've ever used. Here we go!
MY DAILY SKIN CARE ROUTINE
My daily face care routine involves all things I do morning and evening to take best care of my skin. Regularity is as important as the products I choose and the order of applying them. Here's what I do.
My Morning Skin Care Routine
I wash my face using a mild foam to get rid of the sebum that has built up throughout the night.
I use a toner or botanical face mist (I've discovered an amazing Kiehl's Cactus Flower & Tibetan Ginseng Hydrating Mist recently).
Before the face dries I reach for a face serum. What's my top pick? You'll find it by reading on. I smooth around 5 drops across the face, softly massaging the skin and making sure the product evenly covers the face.
I put on eye cream while the serum has enough time to sink in.
Finally, I apply a day moisturizer.
My Evening Skin Care Routine
I remove make-up products using micellar water. I do it thoroughly, replacing cotton rounds many times.
I wash the face using a cleansing gel to get rid of the micellar water residue.
I use a paper towel to dry the face. As I'm in the process of regrowing and repairing the eyebrows, I apply a Nanobrow Serum and give it a few seconds to sink in. BTW, the product is awesome.
I use a nourishing toner.
Before the face dries I reach for a face serum. I repeat the morning routine: smooth a few drops of the serum across the face softly massaging the skin for even application.
I put on eye cream while the serum has enough time to sink in.
I also apply a rich nourishing night cream.
That's all! As you can see, the deep cleansing and good face serum are the fundamental elements in my skincare routine. As far as the serum goes, it's a vitamin C serum. Why? Because it gives me all I need: antiaging effect, even skin tone, radiance, skin repair. I also use an enzyme exfoliant to deeply cleanse the face.
WHICH TYPE OF VITAMIN C SHOULD YOU CHOOSE?
Maybe it doesn't seem to be an important question but it is! Why? Because pure vitamin C is unstable (ineffective, non-durable). Cosmetologists had been trying to stabilize it – usually with a poor effect. Thankfully they managed to come up with one that is EFFECTIVE AND WORK WONDERS. It's called 3-O-Ethyl Ascorbic Acid – search for it while shopping for vitamin C products.
VITAMIN C FOR FACE SKIN – BEST VITAMIN C SERUMS [REVIEWS]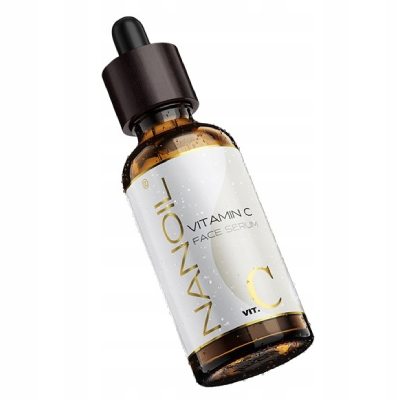 Nanoil Vitamin C Face Serum
Target age: 20s, 30s, 40s, 50s, 60s, 70s, and beyond 🙂
Nanoil vitamin C is my favorite face serum because it has the best conditioning effect, giving me amazing glow and smoothness. It's made my face soft, perfectly moisturized and spot-free. The skin is repaired and healthy without any traces of hyperpigmentation or other types of imperfections. The Nanoil face serum includes the best form of vitamin C because it's stable, plus an extract from Punarnava – an antioxidant-rich plant which, similarly to vitamin C, evens the skin tone and rejuvenates. The Nanoil Vitamin C Face Serum costs a fair price for the great effect and a bottle that lasts long (50 ml is rare for face serum). It's a perfect pick for any skin. I heartily recommend Nanoil!
Visit – www.nanoil.us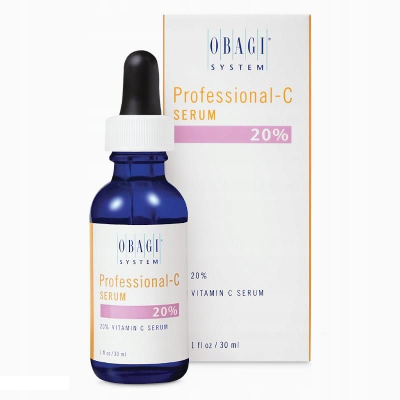 Obagi Vitamin C Serum 15%
Target age: 20s, 30s, 40s, 50s, 60s, 70s, and beyond
It was my favorite face serum for a few years – it was before I came across Nanoil. Though the Obagi Vitamin C Serum is rather old and contains pure (unstable) vitamin C, it still enjoys great popularity. What makes it a popular pick? The effects are really cool because of a high concentration of vitamin C. The 15% version is one of the three serums offered by the brand, and it turns out to be the most versatile, working for any skin type. It contains one more form of vitamin C: Ascorbyl Glucoside. The two forms gave me great effects. I just wish the serum wasn't so expensive.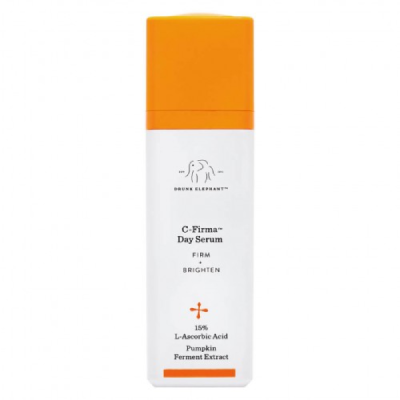 Drunk Elephant C-Firma Serum
Target age: 30s, 40s
Drunk Elephant C-Firma is a good face serum to use in our 30s and 40s on skin with first signs of aging. It's effective for smoothing and moisturizing, lightweight, gel-like, absorbed fast, and… pricey. It contains ascorbic acid, hydrating hyaluronic acid and ferulic acid which exfoliates and repairs the skin. The Drunk Elephant C-Firma Serum improves the skin tone and helps smooth fine lines. The formula is enriched with vitamin E, aka vitamin of youth, which delays skin aging process. It has a nice scent and is ideal to wear under make-up.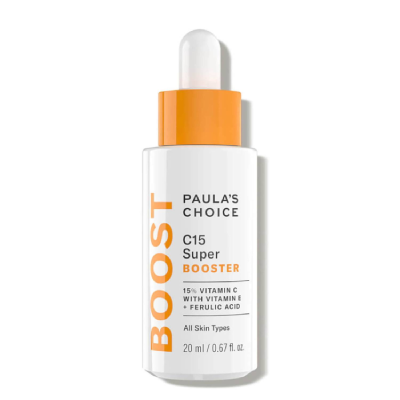 Paula's Choice Resist C15 Super Booster
Target age: 20s, 30s
My vitamin C adventure started with the Paula's Choice Resist C15 Super Booster. This light-textured, lovely-smelling and nice-to-use water-gel booster is a perfect choice if you've never used vitamin C serums before. It's great for young skin. Even though it contains an unstable type of vitamin C, it boasts a high concentration of the substance. The low pH makes the vitamin more stable and therefore more effective. It's a really cool product. It fails to prevent face lines but it does nourish and revitalize the face, maintaining the hydration and skin's natural pH. I recommend it as the first vitamin C serum for young skin.
Okay, let's call it a day! Have you found your ideal face serum yet? Hope so! 🙂