Best Hair Products for Heat Styling. Which Ones Are Worth Using?
You probably know that heat styling involves doing the hair with a curler, flat-iron or other heated devices. However, do you know how to do that without leaving the hair dry and damaged? You need a heat protectant!
I'm devoting today's post to thermal protection of hair. To be more precise, I want to write about different sprays for heat styling. To me such products work best, you just need to pick the right ones. I'll share the names of my favorite heat protection sprays later on.
Spray for heat styling – positives
I usually choose a spray, not oil, cream or conditioner, because it's much lighter. My hair is prone to oil buildup and loss of volume so greasy oil-based products or thick creams only make it worse. Any spray or mist is better because it is light-textured and doesn't weigh hair down. There's more to it, though!
Because most of the sprays for hair are quite runny and have atomizer for spritzing the product, they are way more cost-effective – one spray will last you very long so you don't need to restock all the time.
How to use a heat protectant spray?
Without a doubt, the easy use is another argument for choosing sprays. Anyone will manage. All you need to do is spritz the product on the hair after washing and before blow-drying or straightening. Most heat protectant sprays can be used on dry hair too. We don't need to rinse them out so we spend less time doing our hair.
BEST OF THE BEST
Without further ado, I'll round up my beloved heat protectants for hair. To me they're the best for heat styling and I always have at least one of them in the bathroom – I'm sure they won't fail. I list them from the best one to the products with some downsides.
Which spray will you pick for heat styling?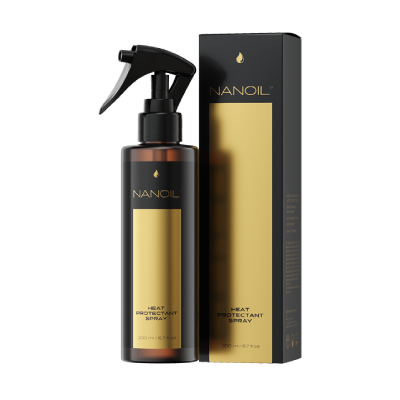 I love this spray: its light texture, amazing scent, cost-effectiveness, fancy bottle and easy use. I love everything about it!
This silk-rich formula – apart from protecting against extreme temps – strengthens the hair and repairs damage caused by heated devices. I love the smoothness, gloss and softness it creates. Nanoil Heat Protectant also ensures an easier hair styling routine, cuts blow-drying time in half, and prevents frizz and static, which I love the most. It's the best out of the available heat protectants and it's easily accessible because you can get it for a good price from the official online store – have it delivered to your door!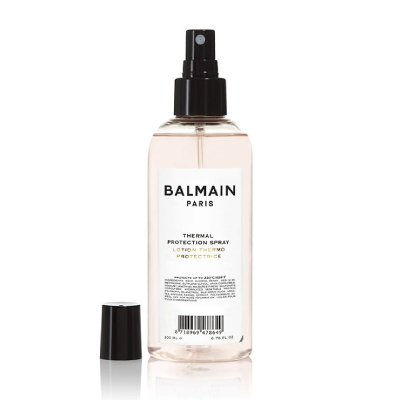 Balmain Paris Thermal Protection Spray
Can you buy a beauty product on impulse because of its lovely color? Sure you can, especially if it's a pink spray from Balmain.
This hair mist is enriched with silk proteins and panthenol (provitamin B5). I bought it a few months ago, enchanted by the old-rose color of the spray in a clear bottle. I was happy that beyond looking nice, it proved effective. It protects the hair against heat from dryers, flat-irons and curlers, plus delivers gloss, strengthens, and eases detangling. Too bad Balmain Paris Thermal Protection Spray doesn't last long and costs a lot.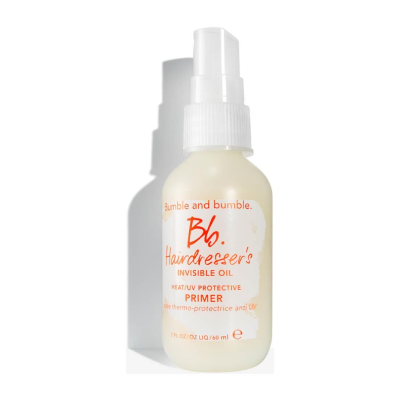 Bumble and Bumble Hairdresser's Invisible Oil Heat/UV Protective Primer
One of the coolest products for protecting the hair against heat and sun. I love it for the beautiful scent.
It's a blend of six oils which make up a spray with protective properties and extra benefits. Bumble and Bumble Hairdresser's Invisible Oil Heat/UV Protective Primer combines coconut, argan, almond, macadamia, safflower and grapeseed oil, plus shea butter. It's okay on my hair provided that I don't put too much on it. If you overuse it, you'll probably see that oils tend to overload the hair. Still, this product effectively protects from damage, smooths and de-frizzes.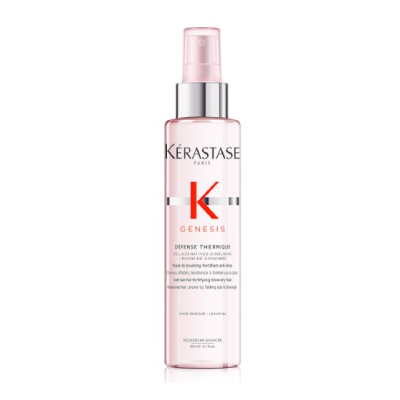 Kérastase Genesis Défense Thermique
I like hair products which smell nice and work well. The protective serum from Kérastase guarantees that.
This lightweight serum is made for preventing loss of density in hair. It helps stop breakage, dryness and splitting so we can enjoy fuller hairdos. Kérastase Genesis Défense Thermique prevents damage while heat styling – no matter if it's blow-drying, curling or flat-ironing. It also nourishes the hair, adding softness and shine. Unfortunately it takes more time to work. Kérastase Genesis Défense Thermique contains coconut oil and botanical extracts (such as ginger or edelweiss) which don't produce instant effects.