My Skin Ritual + 3 Anti-Redness Serum Recommendations
Some time ago I was reflecting on my skin care ritual. I thought about the products I'd been using recently, the treatments I like, and the ones that I force myself to do because I know I just have to. While analyzing all of this, it occurred to me that I'd learnt so much from my little home experiments. Well, I'm really proud of myself. I especially like the fact that I don't need to turn to any sophisticated in-salon procedures because I know exactly what to do in order to keep my skin clear and spotless.
Don't get me wrong – I'm not bragging. I just want to help you realize that you don't have to spend much time or money to like what you see in the mirror. It's enough to implement some easy-to-follow tips into your daily skin ritual – like the ones that I'm gonna share with you in a second. Here is how I deal with skin imperfections.
My morning and evening skin routines are pretty similar. They consist of the same number of stages that I always go through before going to bed and after getting out of it. The things that change though are the skincare products. Nevertheless, I always look for cosmetics that are formulated with just a couple of ingredients. I try to steer clear of preservatives, alcohols and other ingredients that I don't want to put on my skin. Here is how my regular skin care regimen looks like.
I cleanse my skin using either a gentle foam or emulsion.
Then I reach for a facial tonic.
Now it's time for a floral water, which in my case is made of rose petals.
When my skin is slightly damp with the rose water, I put on a face serum. Sometimes I use different products for morning and evening routines, other times I use the same product in both cases.
Finally, it's time for a nourishing face cream that I apply at bedtime, and a cream with SPF that I use in the morning.
Let me draw your attention to one crucial aspect, which is making skin super clean before applying a face serum. If you want to get the most of the serum, you just must be sure that there is nothing on your face that may interrupt the serum from absorbing into the skin. It's also vital to follow it with a face cream to trap the serum inside the skin.
Now, let's move on to the three products designed for sensitive and redness-prone skin that I do like. I truly hope they are right for you too.
3 Anti-Redness Serum Recommendations
RECOMMENDATION NO 1 – Nanoil, Anti-Redness Face Serum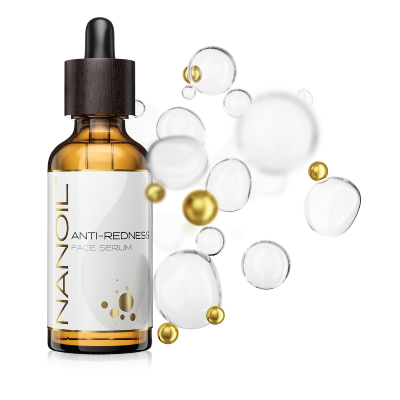 From the moment I applied it for the first time, I just knew that this one would be my favorite. Anti-Redness Face Serum from Nanoil comes with a superconvenient dropper that helps me measure out the exact amount of the product that I need per application. The serum spreads easily over the skin and penetrates quickly without leaving any residues. I think it's because this serum is water-based, which clearly makes me happy because my skin doesn't take to oily products.
In a couple of seconds this serum is able to relax my skin, freeing it from irritation. Nanoil Anti-Redness Face Serum also promotes even skin tone and brightens up facial redness that tends to appear out of nowhere. Thanks to the chestnut extract that the serum contains, my blood vessels are stronger, and therefore less visible.
I like cosmetic products that deal with a few tasks at the same time. That's why I was very happy to learn that this serum is also formulated with a plant-derived antioxidant that makes the skin supple and keeps it elastic.
Nanoil is my #1 because it delivers promised results, has a smooth formula, you can use it twice a day, and it isn't expensive.
Learn more – www.nanoil.us
RECOMMENDATION NO 2 – Exuviance, AntiRedness Serum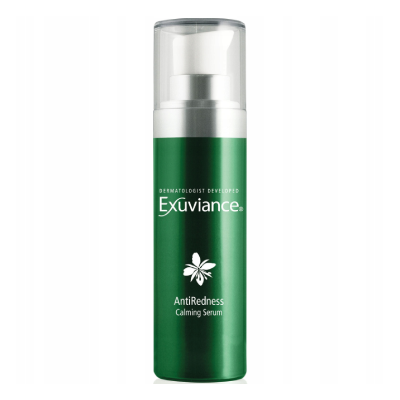 Here's a product that I'd recommend to those of you who want to get rid of acne. AntiRedness Serum launched by Exuviance is proven not only to strengthen the walls of blood vessels but it also erases imperfection from skin.
This serum has the power to seal broken blood vessels, minimizing or even completely reducing their appearance. Moreover, I find it outstanding when it comes to fighting and preventing inflammation. To be honest, I don't remember having any breakouts when I was using this serum daily. The skin was moisturized, felt smooth and supple.
Exuviance AntiRedness Serum texture is cream-like, which I believe makes it difficult for skin to soak it up fully. That's why, I prefered to use it in the evening because I simply didn't have enough time for that in the morning. More pluses: the serum is fragrance-free which means that the risk of irritation is practically non-existent.
I like this serum a lot but I don't buy it often because of the high price.
RECOMMENDATION NO 3 – The Ordinary, Ascorbyl Glucoside Solution 12%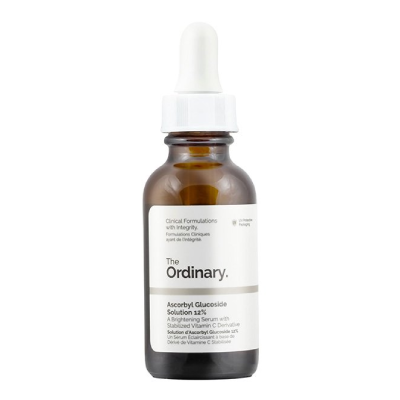 And this is a serum that I like using in the morning. I don't know how but The Ordinary Ascorbyl Glucoside Solution 12% gives me glowing skin – this wonderful effect remains with me throughout the entire day! I think I'd waste this serum's potential if I incorporated it into my evening beauty routine.
I believe that mainly vitamin C is the ingredient that gives me this effect of brighter and radiant complexion. This nutrient is also responsible for making my skin even-toned and youthful-looking (it delays aging). The remaining nutrients bring relief to stressed-out skin.
Unfortunately, I can't say that The Ordinary Ascorbyl Glucoside Solution 12% is able to deal with spider veins in any way, whatsoever. I mean, it removes pigmentation spots but it doesn't minimize the appearance of broken capillaries. Nevertheless, it works okay for my skin, and that's why I included it in my list.
Girls, let me know what your daily skin ritual looks like. Is it similar to mine? I'm also curious if you use two separate face serums for morning and evening treatments. Oh, and there is one more thing I'd like you to ask: What are your favorite anti-redness face serums?